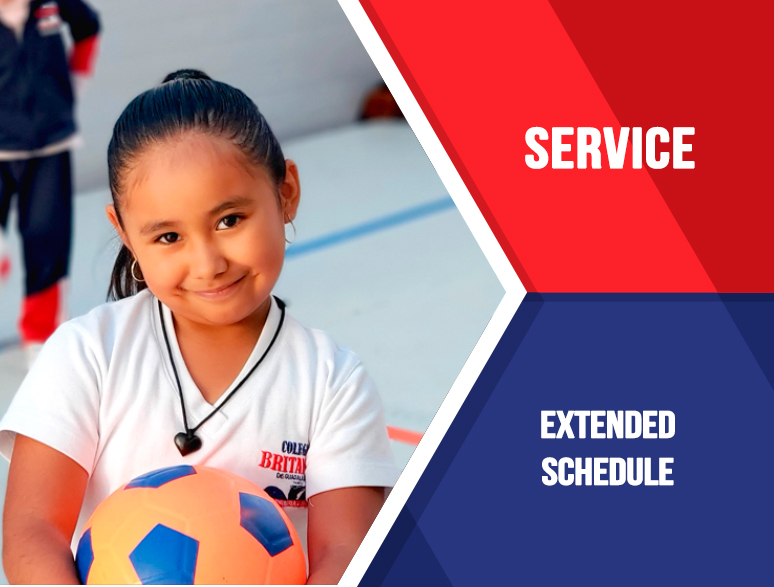 Our school offers as an optional service to the parents an extended schedule to allow them to comply with their personal or professional needs.
Our extended schedule has a cafeteria advised by a nutritionist to continue offering our students high quality and balanced food with nutritional value.
Offered services:
Preschool:

From 1:30 – 2:30 mealtime.
From 2:30 – 5:00

playroom.
Elementary:

From 1:30-3:00 mealtime.
From 2:30 – 3:30 extracurricular classes from Monday to Thursday and crafting on Fridays.
From 3:30 -4:30 homework club.
From 4:30 – 5:00 playroom.
 

Jr. High: 1:30 -3:00 mealtime.
Notice: THE MENU IN THE CAFETERIA is published and renewed each month..
---
Homework club
Monday to Friday 3:30 to 4:30 Preschool
Monday to Friday 3:30 to 4:30 Elementary and Jr. High
We offer an educative guide for the school homework. In this club we develop study habits and reinforce the daily acquired knowledge from the class.
Playroom
Monday to Friday from 4:30 – 5:00 Preschool, Elementary and Jr. High
Playing, learning and socializing is what our playroom offers. A recreational space in which multiple abilities are developed through games as well as a discovery of the student's personality.
Regularization
Monday to Friday 3:00 – 4:30 English and 4:30 – 6:00 Spanish
This workshop brings personalized support to help each student improve.